Vassar Vulcans! We have been notified that the D T E power outage could take as long as Thursday, Nov. 19, at 11:30 pm. We hope that is not true. On Wednesday, November 18, grades 9-12 will be totally remote and stay home. There will be a Chromebook pick up time for grades 9-12 when the power comes back on. PreK-8 grades will come back for one full day of school when the power comes back on to pick up Chromebooks and work out details with their teachers. The very next day, PreK-8 grades will also be totally remote and stay home. We must all do what we can to stop the spread of COVID-19. Please continue to follow all health protocols. We plan to come back in session on Wednesday, December 9, for all grades. We know things change every day. Please be patient. We will still hold parent/teacher conferences on Nov. 23-24 as scheduled remotely. Please continue to monitor Facebook and the school website , as we determine if there will be school on Tuesday November 17. Stay Vulcan Strong! Thank you, Dot Blackwell Go Vulcans!


PHONE SYSTEM UPDATE: An AT&T technician was able to repair the T1 line that was down. The phone system is now working properly for incoming and outgoing phone calls. There will be school on Wednesday, November 11th. Once again thank you for your cooperation and understanding. #vulcanstrong

UPDATE ON PHONES: AT&T has notified the school that there is a T1 line down/disconnected and they have dispatched a technician to repair the line. When you call the school it says that the number has been disconnected and that is incorrect, the line has been disconnected and will be repaired soon. Please be patient and Vulcan Strong!

UPDATE UPDATE. Vassar Vulcans, the building administrators and superintendent have decided that safety is of the utmost importance and we are CLOSING SCHOOL for November 10th because of not having a working phone system. Thank you for your cooperation and understanding. Stay Vulcan Strong.

Good morning Vassar Vulcans! The phone system is still down, but we are going to have school today except for the Townsend North Building, B 4 K program. Please continue to email the school or use facebook for messaging. The phones work internally room to room and the staff have cell phones in case of an emergency. Thank you for your understanding and stay vulcan strong.

Good evening Vassar Vulcans. Vassar Public Schools is currently experiencing a phone system outage. If you have any needs please email the school secretaries or contact the school using facebook. We will update everyone when the outage is restored. Thank you for your understanding and stay vulcan strong.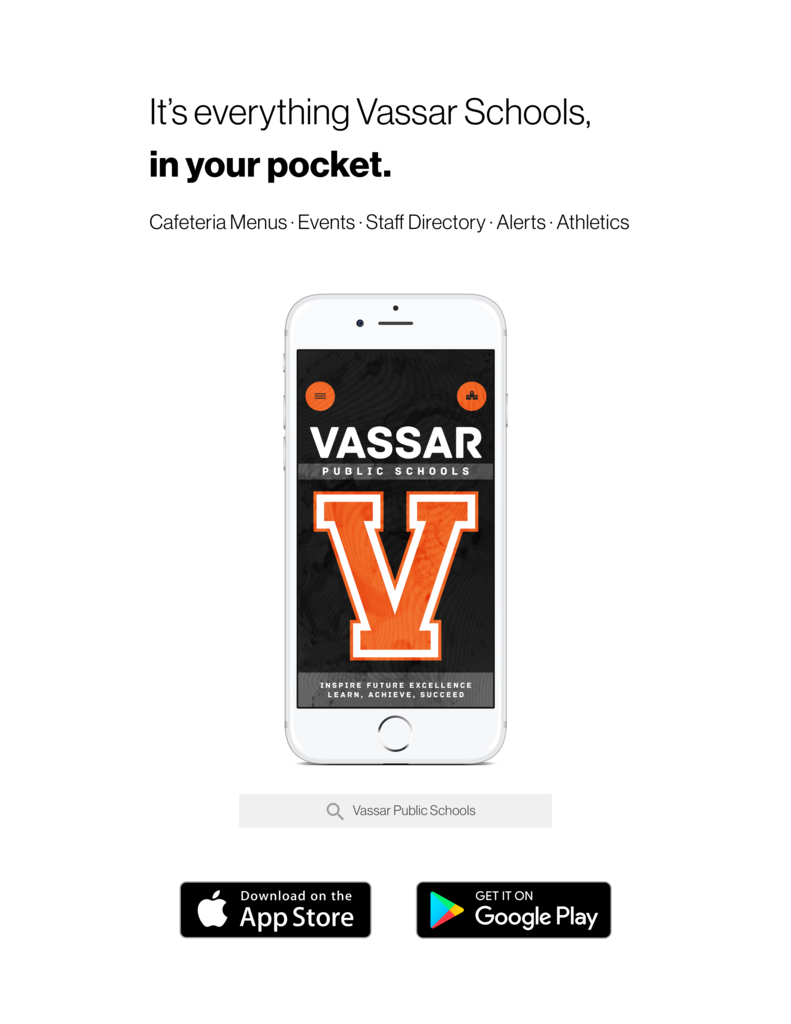 UPDATE: Consumers Energy and safety officials have walked through the Central Elementary building and have given an ALL CLEAR that the building is safe. Students will be returning to the elementary building and dismissal will run as normal. Thank you to everyone for their patience and understanding. #vulcanstrong

Due to suspicious smell at the Central Elementary building, we are making safety a priority and evacuating the students and staff to the high school. We will update parents soon. The students will be safe and at this time bussing will be at normal time.



We need food service workers! If you are interested please contact
www.willsub.com
and fill out an application today.

Vassar Vulcans! No School Friday, October 23, professional development day for staff.

Tickets are still available for tonight's game. They can be picked up at the high school athletic office window (underneath the VASSAR decal) until 3pm. There is no charge to get into the game but you must have a ticket.
www.facebook/vulcanfootball
for the live stream of the game tonight.

Vassar Public Schools will continue to follow our board adopted preparedness plan based on clarification from the health department and legal counsel pertaining to the newest executive order.

Vassar Vulcans on Friday October 2, students will stay home to practice remote learning. The homecoming football game will be live streamed on Facebook! Go Vulcans!

Hey, Vassar Vulcans just a reminder, the third game of the season is Friday versus Caro. You can watch the game at home through a Facebook live link found on the Facebook page named: Vassar Football Live Stream. Only guests of athletes pre-ticketed will be allowed in the stadium. No gathering around the perimeter of the facility. Thank you! Athletic Department and Administration

Vassar Vulcans! On Monday October 5, 2020, all students grades K-5 are required to wear a mask in the classroom per executive order 2020-185.

Hey, Vassar Vulcans just a reminder, the second game of the season is Friday versus Lakers. You can watch the game at home through a Facebook live link found on the Facebook page named: Vassar Football Live Stream. Only guests of athletes pre-ticketed will be allowed in the stadium. No gathering around the perimeter of the facility. Thank you! Athletic Department and Administration