School of Choice Applications will be accepted from January 8- January 21 for students in grades K-12. If you know a student that lives outside of the Vassar district who would like to attend one of our great schools for the 2021-2022 school year please contact Stacy in the Superintendent's office at 989-823-8535 option 1.

Could your student benefit from having a Chromebook at home? Vassar Public Schools has been awarded an Emergency Connectivity Fund Grant! This grant allows the school to provide students with a Chromebook to use and keep at home while they are enrolled at Vassar Public Schools. These are brand new Chromebook to the district. We are starting with one Chromebook per family. Parents please login to your Skyward Parent Access and visit the message center to learn more and complete the required forms. Forms are due on January 19th.

The students and staff at Vassar Public Schools wishes everyone a safe and happy winter break. We look forward to seeing students when school resumes on Monday, January 3!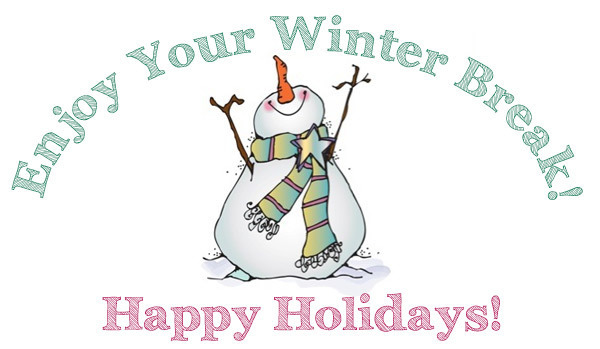 This holiday season, Vassar 6-12 was able to help 20 students and their families have a very Merry Christmas! We were able to gift presents to every child in the home and provide food including a $30 food voucher good at any grocery store. We were also able to help provide food for 5 Central Elementary families. We would like to thank our staff and members of their families who took the time to adopt a family, shop and wrap presents so all of our children have a bright Christmas morning. We would also like to give a big shout out to the companies, organizations and community members who sponsored Christmas for our Vassar students. We couldn't do all that we do if it was not for their generosity and kindness.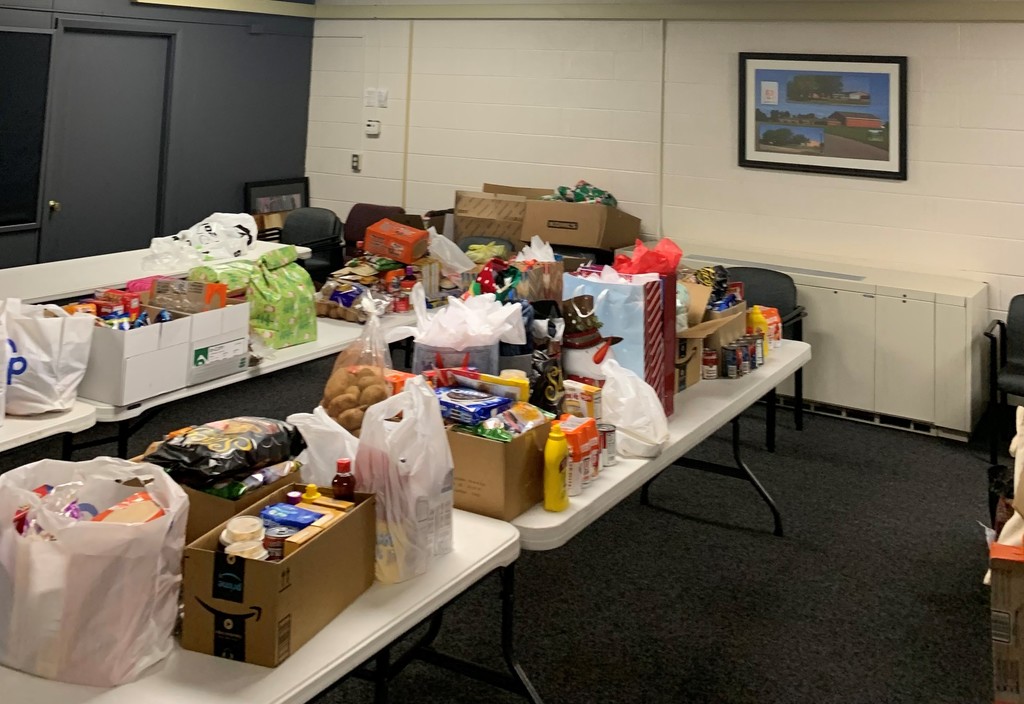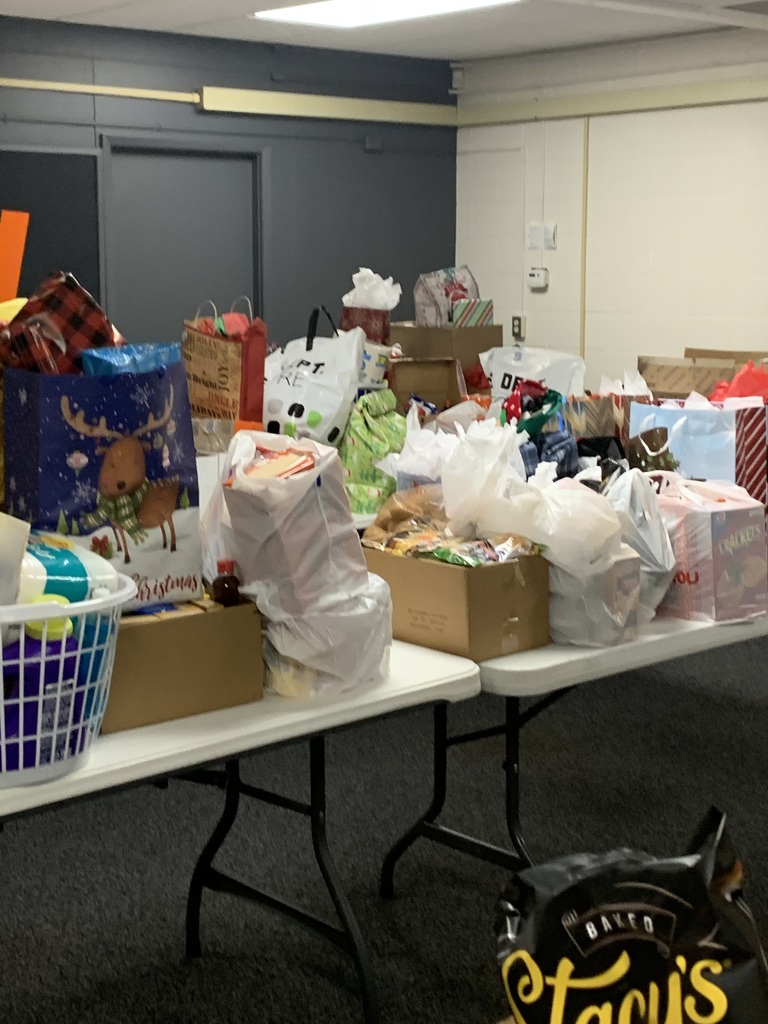 Good Evening Vulcan Families! Tomorrow Friday, December 17 is a half day for students due to teacher professional development in the afternoon.

Vulcan Families, we will have a double run tonight on the Lion Bus #21-5. Students riding the lion bus will be dropped off later than normal.


Hunter Safety Class Information!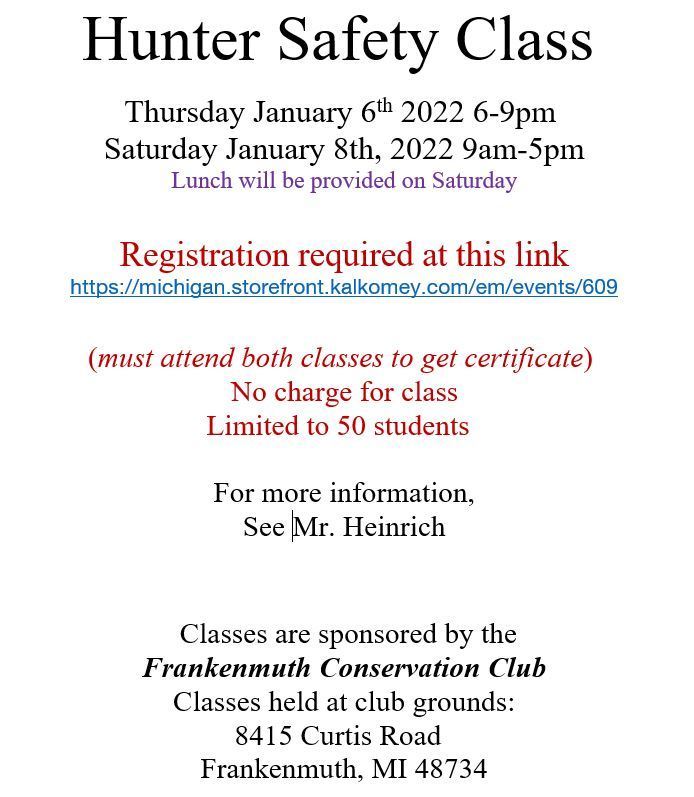 Winter Break is almost here! Let's show our excitement for the upcoming holiday season with a holiday themed spirit week! Monday : Central: Don't be a Scrooge! Wear any kind of holiday gear MS/HS: Twas' the Night Before Christmas! Wear your best winter/holiday pajamas. Tuesday: Central: Santa, Reindeer, and Elves O' My! Dress like any of these characters. MS/HS: Christmas Out! Wear as much festive attire as possible. Wednesday: Central: Vacation is Near! Dress in Hawaiian shirts, leis, sun hats, ect. MS/HS: Winter Wonderland Whiteout! Wear as much white as possible Thursday: Central: Grinch Day! Dress like your favorite Grinch character MS/HS: Christmas Vacation! Wear your tropical shirts, sunglasses, ect... Get vacation ready Friday: Central: Long Winter's Nap! Wear your pajamas to school MS/HS: Ugly Sweater Day! Bring those tacky Christmas/Winter sweaters and celebrate Winter Break in style.

Please see this weeks COVID letter below. Enjoy your weekend Vulcans!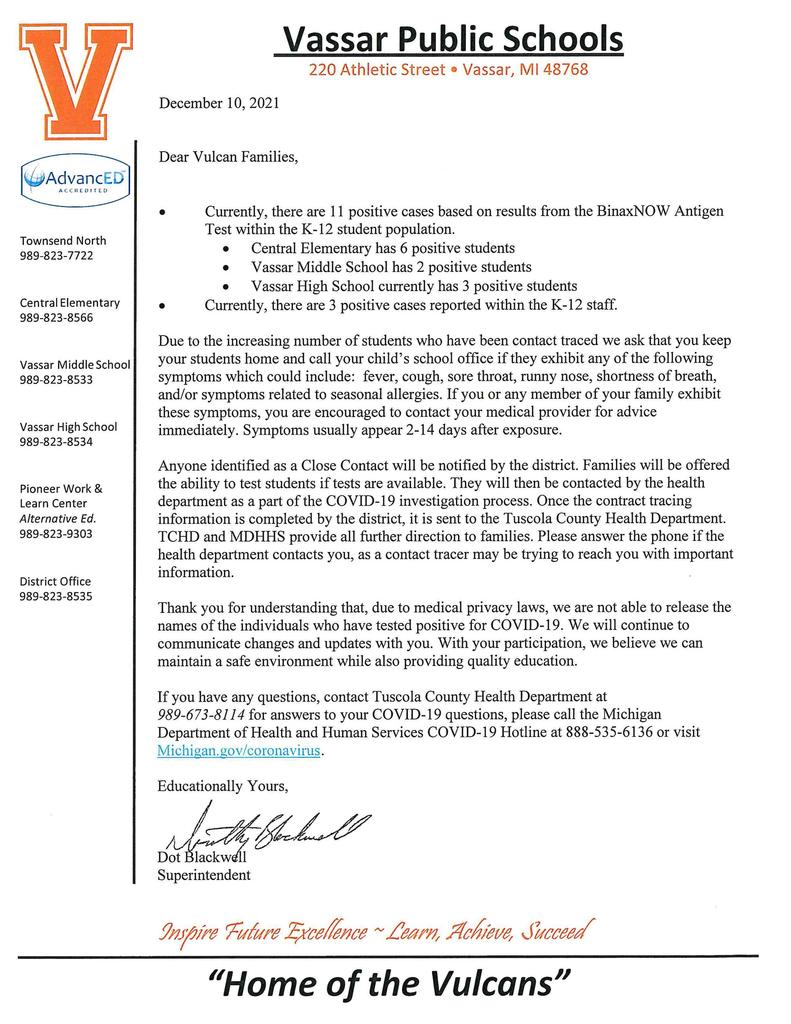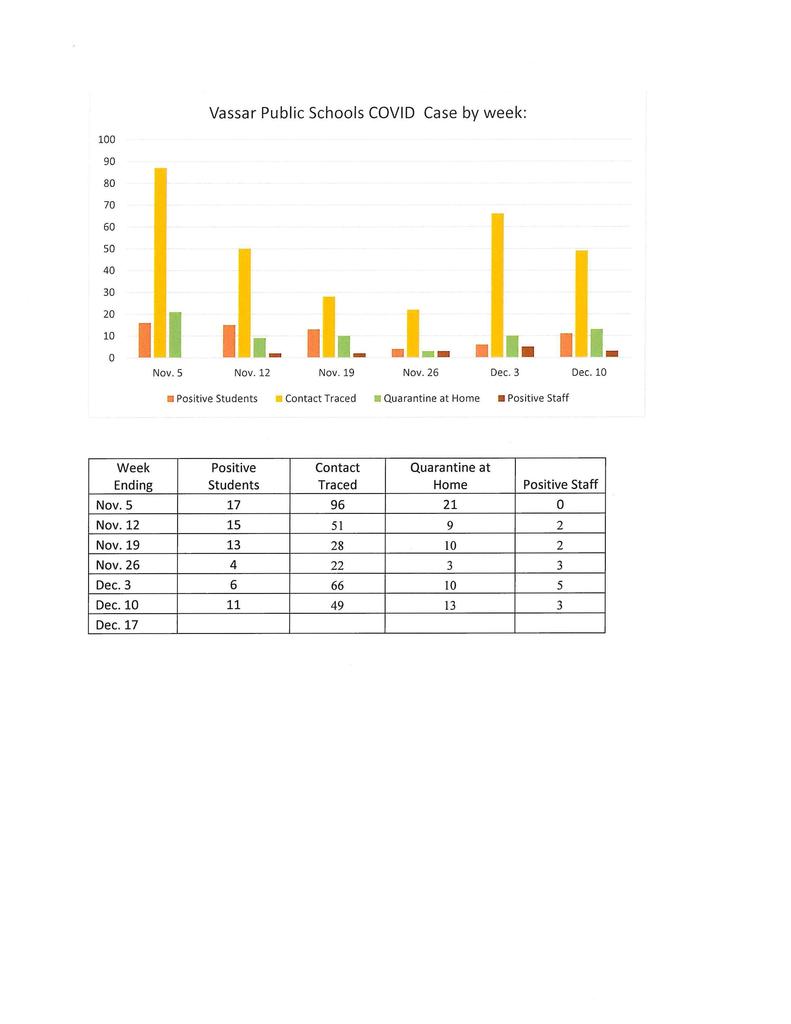 Our 6th grader's hydroponics experiment is a success! Over the past few weeks our 6th graders have been learning about hydroponics in these awesome grow pods in our halls! We have two pods with one located at the high school end of the building and one located at the middle school end. Mrs. Plesko and Mr. Tallman have worked together on the experiment with 6th grade students and today all of our students and staff get the opportunity to partake in the harvest! Today's salads and anything using lettuce will be made with the lettuce grown by our 6th graders! Our own farm to table is happening here at the Vassar 6-12 building! A special thank you to the cafeteria staff for being involved in completing the student's experiment!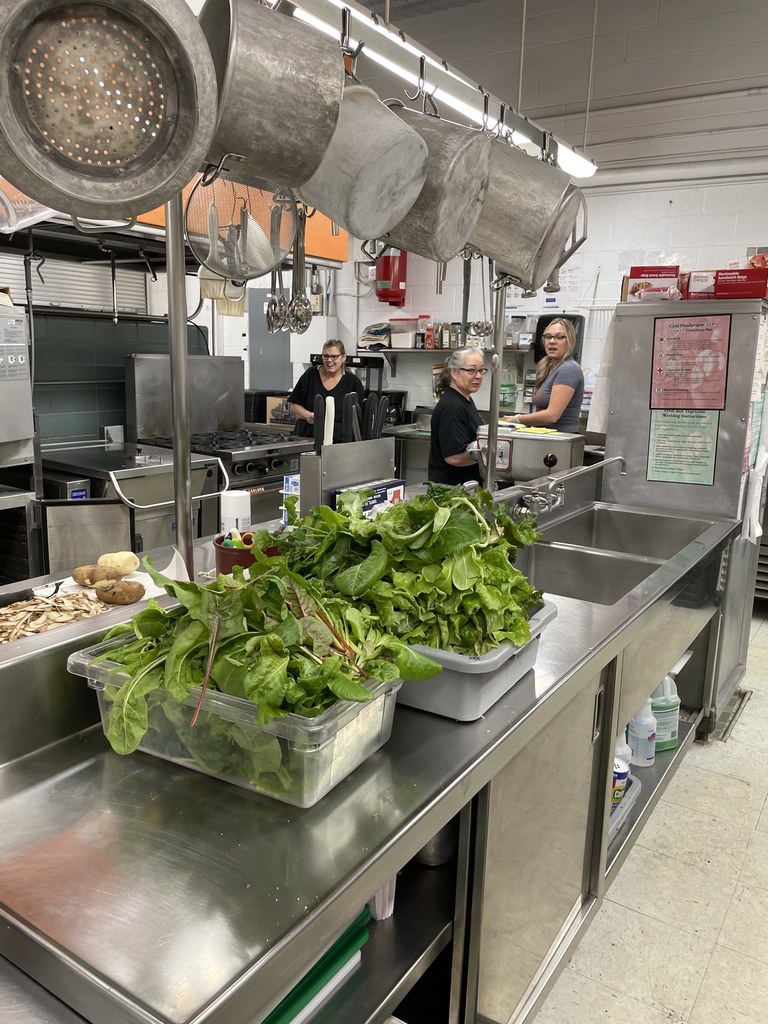 Good Evening Vulcan Families! Tomorrow Wednesday, December 8 is a half day for students due to teacher professional development in the afternoon.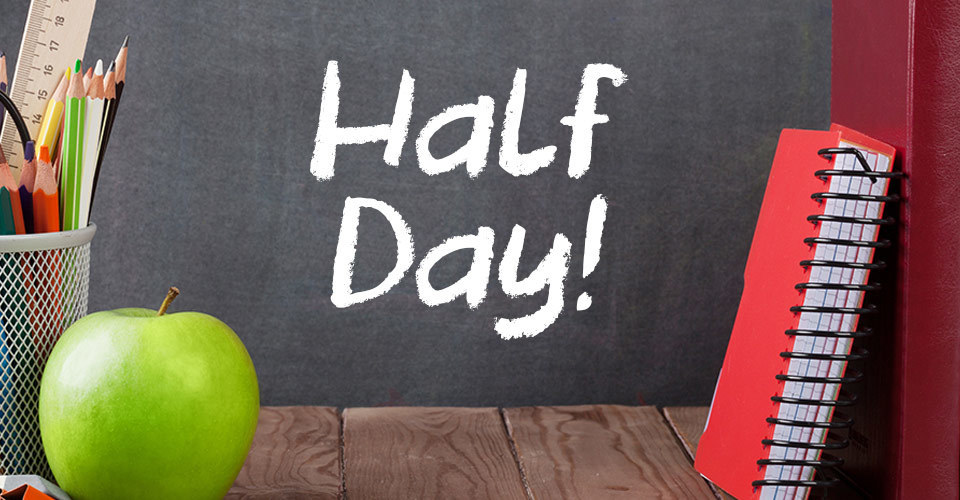 Good Evening Vulcan Families! The Tuscola County Prosecutor and area Superintendents have decided all Tuscola County schools will reopen tomorrow Monday, December 6, 2021. The letter from the Prosecutor states there will be an increase in police presence in and around the schools despite there being no credible threat. Please see the letter attached to this post on Facebook or the school website for more information on this decision.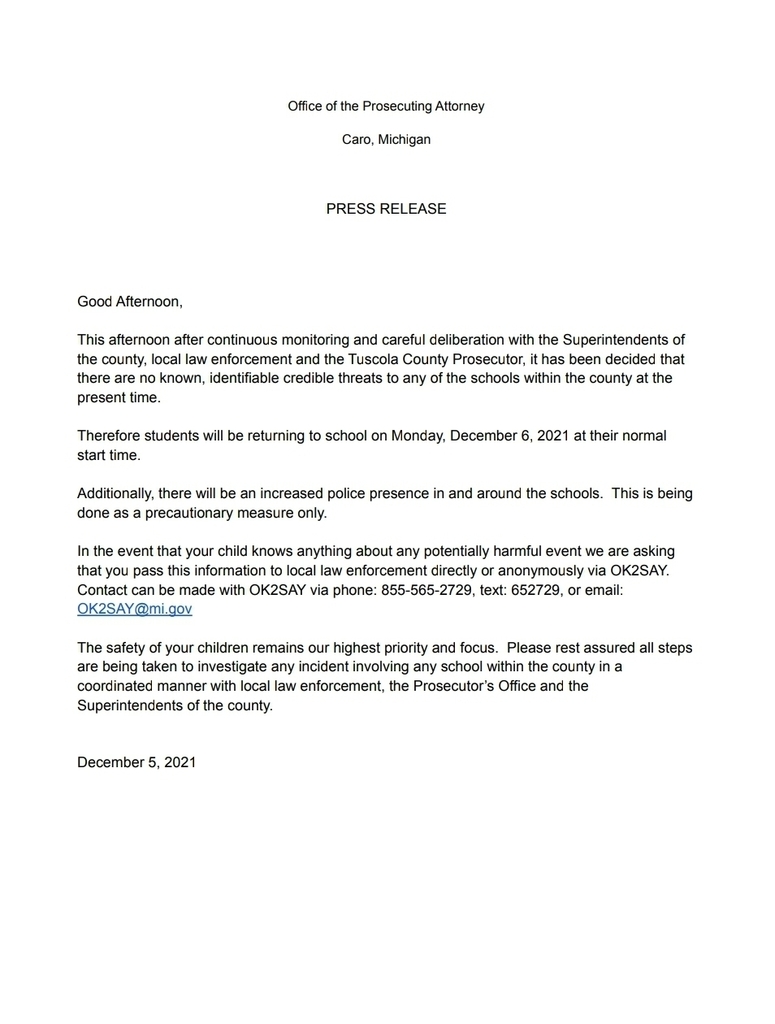 Good Evening Vulcan Families, Vassar Public Schools, GSRP programs, and all Tuscola County Public School Districts will be closed tomorrow Friday, December 3. Beginning immediately all school sponsored sports and activities are canceled. Staff and students should not report to the building for any reason. Please see the letter below from Tuscola County Prosecuting Attorney Mark Reene, more information will be shared once available.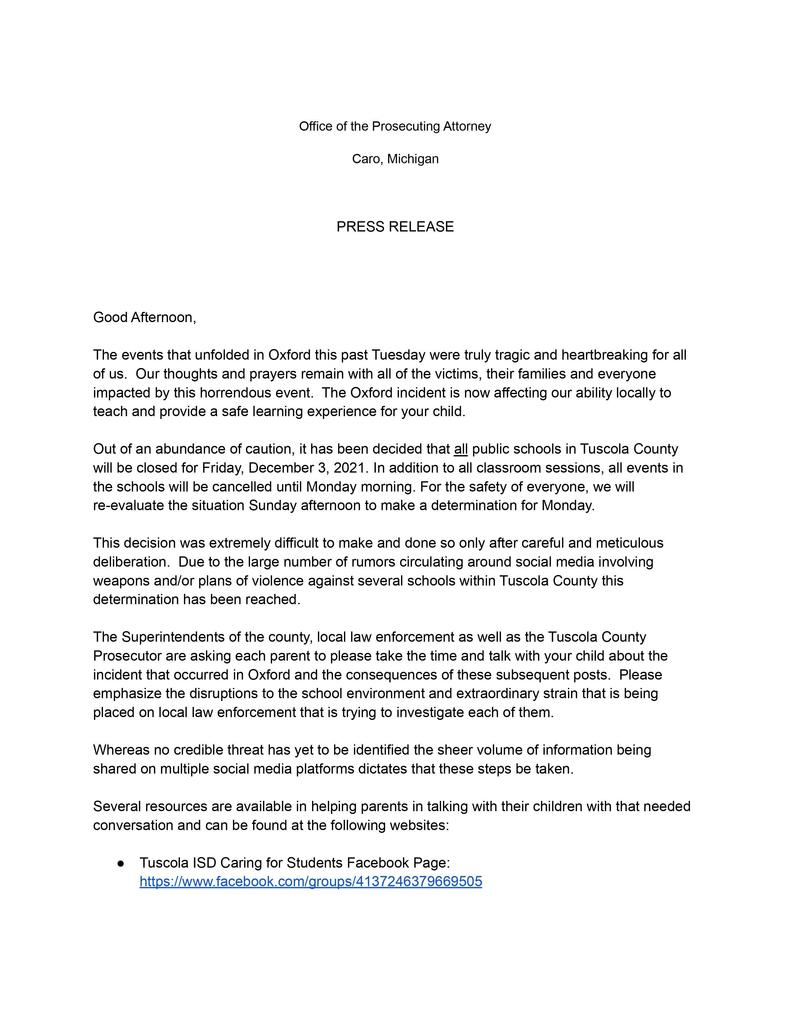 Vulcan Families, we will have a double run tonight on the Fish Bus #21-4. Students riding the fish bus will be dropped off later than normal.

Due to pending inquiries on the OSHA Vaccination and Testing Emergency Temporary Standard (ETS), the Special Board of Education Meeting that was scheduled for Wednesday, December 1 has been canceled at the request of the Board majority. We are also in process of reviewing district procedures with the Tuscola County Health Department. The next Regular Board of Education Meeting will be on Tuesday, December 14 at 6 o'clock in the gymnasium at Vassar High School.

Flyers for Varsity Jackets are available in the 6-12 Office!

Cap & Gown Orders for Seniors 2022 will be taken during lunches tomorrow 11/30/2021.