Running into Summer!
Central Families, Please return any VPS chromebooks and chargers to Central Elementary between the hours of 8:00 and 3:00 by June 16th. You may keep hotspots until further notice. Thank you!
We are holding a Scrap Metal Drive at Central until the end of June. We would very much appreciate any contributions you can make to support our school! Thanks!
On Friday, we will be sending Chromebooks home with the students so you can participate in our Virtual Family Event on your own time from home.  A packet of fun activities, books, response sheets, a pizza certificate, cards and dice, and water balls will also be coming home.  Additional information will be sent home through Skyward and by visiting this link:
https://bit.ly/3xsPeqU
We've had a lot of fun preparing for this and hope you'll join us!
Central Families, People are parking in the pick up and drop off lane and it's getting to be a dangerous situation. No one should be parking in the pick up and drop off lane; it makes it hard to see the kids and adults and blocks traffic. Please be considerate and help us keep everyone safe. Thank you!
See information about Camp Invention.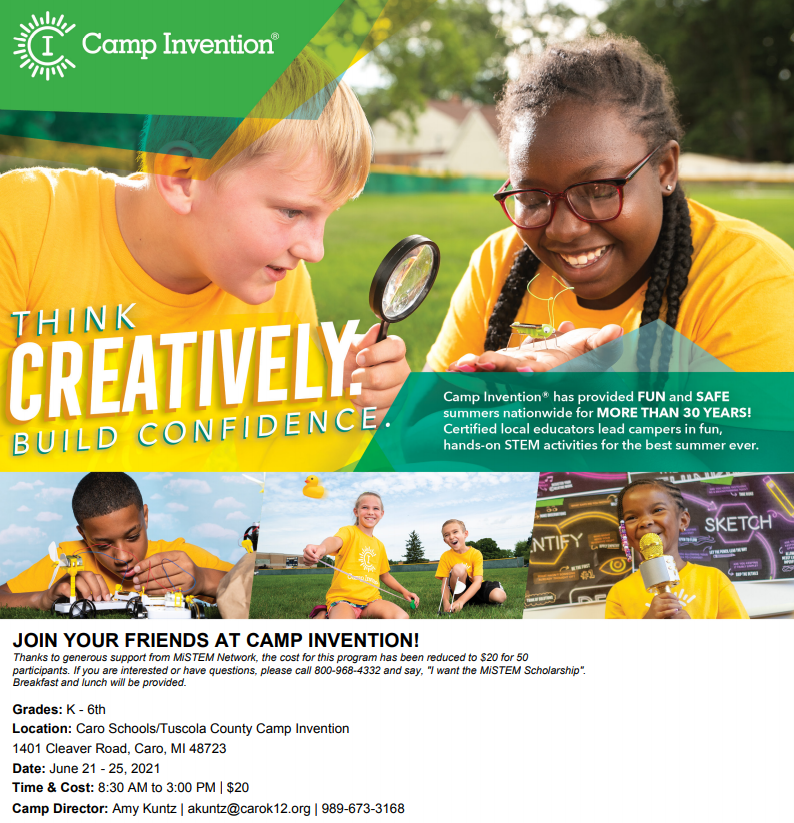 Picture Day is Friday @ Central!!! Order @
www.lifetouch.com
School Name: Central Elem School Picture Day Date: Friday, April 9 Picture Day ID: EVT3NP2KZ Important Information: Picture Day!, Friday, April 9th 2021 REMOTE STUDENTS: You may get your picture taken from 3:15 p.m.-4:30 p.m. on Friday. Please enter the Gym Entrance.  Pictures will be taken in the STEAM room (Mrs. Rittenberg's room).
Have a student who will be entering kindergarten? Please fill out this form to sign-up for a time for your child to be screened. We look forward to partnering with you in educating your child!
https://forms.gle/rqqQDbGk3bMNLTtt6
Picture Day is Coming for Central on April 9th. Order today at mylifetouch.com. Picture Day ID for Central: EVT3NP2KZ.
School pictures are scheduled for Central on April 9th!!! There will be a period of time for remote students to get their pictures taken after the school day. The 6-12 building is in the process of scheduling pictures, too!
Next Week is Spirit Week @ Central: Monday: PJ Day Tuesday: Tie-Dye Tuesday Wednesday: Western Wednesday Thursday: Dress to Impress Day (dress your best) Friday: Vulcan Pride Day (Orange and Black)
Support our grocery stores! From November 1-January 31, 49 households contributed $149.61 in Kroger Community Rewards to Central's Helping Hands Account. Here's how you can help Central School while shopping at your grocery stores: Shoprite: Clip and save the UPC barcode on every Our Family brand product you purchase. 500 labels earns $25 for our school. Have your child drop them off here at school or mail them to: Central Elementary, Attn: Lisa Riccobono, 425 Division St., Vassar, MI 48768. Kroger: Visit
www.kroger.com
. Once logged into your Kroger account, search for "Central School, Vassar Public Schools" or use code "AR176" and then click "Enroll." New users will need to create an account which requires some basic information, a valid email address, and a Kroger rewards card. During the last period, we raised $139.77 from 38 households that are signed up!
Mrs. Sunday received a Thrivent grant to incorporate art into the classroom. Mrs. Moore and the fourth grade teaching team planned lessons to utilize literacy, history, science and math skills. Students did lessons on the history of the color wheel and how to use the color wheel to create different colors and shades. Next, they discussed places in real life where people have to read and follow directions. Students then had to follow a series of written directions that incorporated many of the math vocabulary terms that they have been working on to sketch their gnomes onto the canvas. Finally, they painted their unique creations!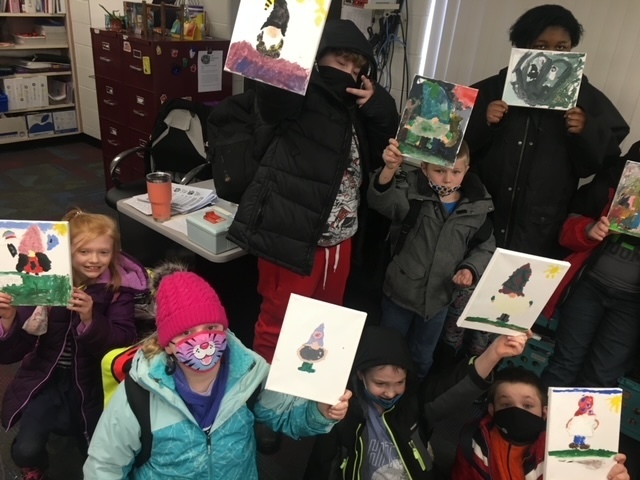 Central has a menu change for tomorrow (Thursday, February 11th): Choice A: waffles, cheesy omelet, potato wedges, strawberry cup Choice B: turkey and cheese chef salad w/roll, tomatoes and fruit choice

Family Meal Delivery-Vassar Thank you for making us your only stop for meals! We love serving our community, and we want to ensure all families wishing to receive meals can do so. Seven days of breakfast and lunch meals are available each Monday, between 3:30 and 5:30 p.m. Our next food delivery date is February 1, in the Vassar HS parking lot, for children and youth 18 years and younger in your household. While the opportunity might exist to get more than your household's allotted share of meals, we highly encourage you to visit only one distribution site. Visiting one site helps us ensure there are enough meals for all children. Face to face learners is all offered free breakfasts and lunches in the classroom on each school day. To ensure all students are provided like amounts of meals, each Friday, a two meal package will go home with each K-5 face to face learner and offered to all 6-12 students. Families that can't make our delivery times may contact our Food Service Department, for accommodations, at 989-823-7504 Please, also let us know if your student has any special dietary needs. Thank you for your cooperation. Together, we will all get through this. This institution is an equal opportunity provider.